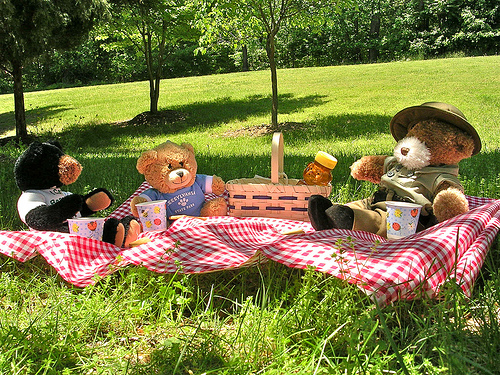 Host a magical "Teddy Bear Picnic Party" at the Barnyard Swing! A fun and creative party idea for your child or group! Recommended ages 2-8, preschools, play groups, families, kindergarten graduations, and birthday Parties!
Creatively decorated for your small group, the Teddy  Bear Picnic Party includes: 
A package of stuffing for each child to use as they hand-stuff their bear, an adoption certificate, and a  large "cottage" for each bear.  
A small bag of "gem rough" to use in our mining water sluice.
A paper and crayon coloring sheet and small pack of crayons. 
A large "Big Book" story to read the group (not to take home).
A Teddy Bear Ice CreamSundae and a drink.  
Older children who want to golf are welcomed to if highly supervised (really young children do not enjoy golfing for more than a few holes). 
Price: $25 per child (plus tip to staff member). A staff member will be with your group to  assist with selecting and stuffing the bears, gem mining, and ice cream. For safety, plan to  have proper supervision for your group.
We highly recommend planning this party (1-1/2  hour in length) between hours of 9am-11am as the Barnyard Swing will not open to  public until 11:00am each day. We will only book two per day during this time period. 
Minimum group size: 5.
You can book a different time, but there will be other public visitors around. As always, you are welcome to bring in your own food, cake, and snacks. This can be set up  inside in inclement weather when booked during the mornings 9-11 time frame.