Use our Tent for your Event
Gather  • Relax • Entertain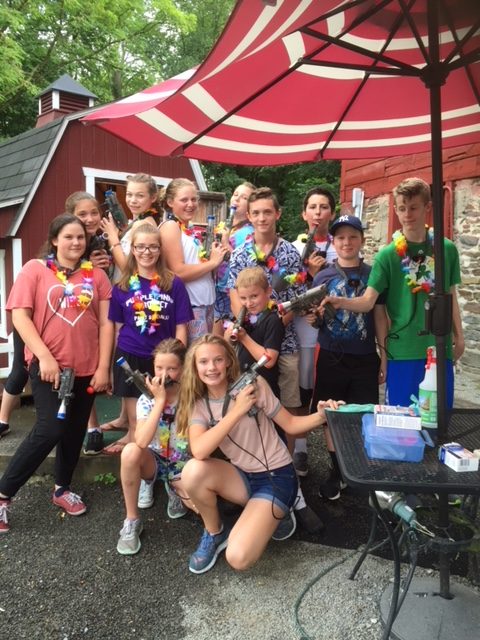 Yes, we are the place for your team picnic or party!  We reserve up to two groups per day (one daytime; one per evening).
Parties are two hours in length.  The clock starts when the bulk of your group arrives, allowing some wiggle room for set up. We have time in between parties so that overlap is not a concern.
Two hours provides ample time for eating, celebrating, and a few competitive games of mini-golf and laser tag. ($12 per person group rate includes one game 18 holes mini-golf and one 20 minute laser tag game.)
With a deluxe gas grill, coolers, paper plates, cups, napkins, condiments, and picnic tables provided – all you need to do is bring in your favorite foods and non-alcoholic beverages. We serve craft beer, hard seltzers and hard ciders to be enjoyed inside and outside.  (No additional outside alcohol is allowed on the premises due to NY State Liquor Laws.) Many local restaurants are happy to deliver to the Barnyard Swing, if you call them ahead of time.
We are steps away from the Cooperstown Dreams Park, and very close to a grocery store.  We do not charge to reserve the tent, as we expect your kids will mini-golf , play laser tag, pan for gems at our water sluice or come inside our Sassy Cow Ice Creamery for some delicious ice cream treats!
We reserve up to two groups per day: one daytime; one evening.
WE MAKE IT EASY FOR YOU.
We provide paper products (plates, cups, napkins) and condiments (ketchup, mustard, relish, salt, pepper), utensils, and platters – at no additional cost to you!
How it works:
Call and book your day or night
Group rate for golf and laser tag ($6 for golf  and $6 for laser tag for a group rate of $12 per person).
We provide a deluxe gas grill, utensils, picnic tables, coolers (ice available for purchase on site), cups, paper products, catsups and mustard – all the things you don't want to take away
Cooperstown Brewing Company craft beer on tap, bud light, hard seltzers, and hard ciders for sale – including pitchers and pints, cans and bottles!
You provide your food, non-alcoholic drinks, and ice (grocery store nearby as well as take out pizza and restaurant places, ice available at Barnyard Swing)
FOR TEAMS: Most teams pick up the cost of one round each of laser tag and mini-golf ($12.00 total per person for both golf and laser tag) for the players. The coach usually reminds them that if they want to play again they must pay on their own (It's our experience that they will want to play laser tag many times – and that will be an extra $6.00 for each additional game). Laser tag lasts about 20 minutes and holds eight to ten people at a time.
Group rate is the same for all members of the group including siblings, parents, coaches and friends!
Parents and coaches are good about keeping an eye on the kids – a reminder that other folks are there golfing as well, so absolutely no running around the golf course – it's dangerous and bothers other guests.
Our Sassy Cow Ice Creamery has 9 flavors of soft serve and 12 flavors of hard-packed locally sourced ice cream.  Cones, sundaes, banana splits, dips, floats, shakes, candies, and mix-ins!
Group pricing $12 per person includes both golf and laser tag.
For more information please contact us at (607) 547-8330  (off season: (607) 376-1853)  or by email at barnyardswingminigolf@gmail.com.